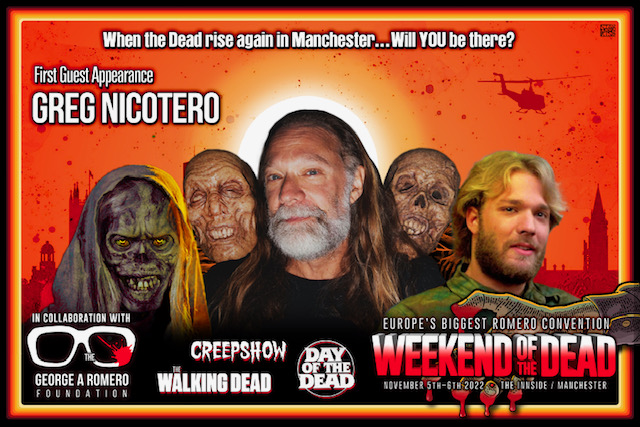 Weekend of the Dead 2022 The Dead won't stay Dead!!!
We are so excited and really proud to announce that Weekend of the Dead is returning once again to Manchester, England on November 5th and 6th 2022.
Not only are we returning, but we won't be returning alone. The George A. Romero Foundation have been working closely with us to bring you this event. They will be heavily involved throughout the entire weekend with special focus on the 40th anniversary of Creepshow and of course the upcoming release of season 4 of the new series.
We were so lucky that the 2020 event was completed just two weeks before lockdown was imposed due to Covid. Nearly two years on, it felt the time was right for the dead to rise once again in Manchester.
How do you top the last event or any of the events from the past… it's almost impossible, however you can start by announcing one of the most influential men in Zombie history.
Greg Nicotero. The man who carried, and continues to carry George Romeros legacy through his work in the world of zombies and of course The Walking Dead.
Greg Nicotero is the first name to be released by us to show we're back with a bang!
If this is your first time or if you are a stalwart attendee, this event is not one to miss. You will have a blast!
The event has limited capacity so grab your tickets as we're expecting a complete sellout. We've got some fantastic photo ops that you are not going to want to miss! Ask anyone who attended the 2020 event, they were awesome!
It's been a long time since a WOTD gathering so make sure you put the date in your calendar! We weren't sure it was possible but it's true…The Dead are rising again, will you be there?