---
The Dead Rise Again in

2023
Weekend of the Dead is the only show in the U.K. which is completely dedicated to George Romero's movies.
Fans who attend not only meet their idols, they interact and experience a weekend of pure joy.
The memories and friendships they make are for a lifetime.
Tom Savini is just one of nearly 40 different Romero guests we have had over since creating the show back in 2015.
Such is their experience with the fans and our team, they actively promote our intimate show to potential guests of the future.
The Dead are rising in Manchester… will you be there and make your own memories to treasure.
Returning this year at Inn-side Manchester Hotel:
---
Guest Signings
Themed Professional Photoshoots
Guest Panels
Vendors
Saturday - Sunday
November 4 - 5 '23
Doors open at 10:00 AM

Line-Up
---
This year's guests so far...
October 30, 2023
Everyone's favourite stuntman make a last minute dash to the airport to return to WOTD for 2023! Taso is always a hit with the fans. We
[…]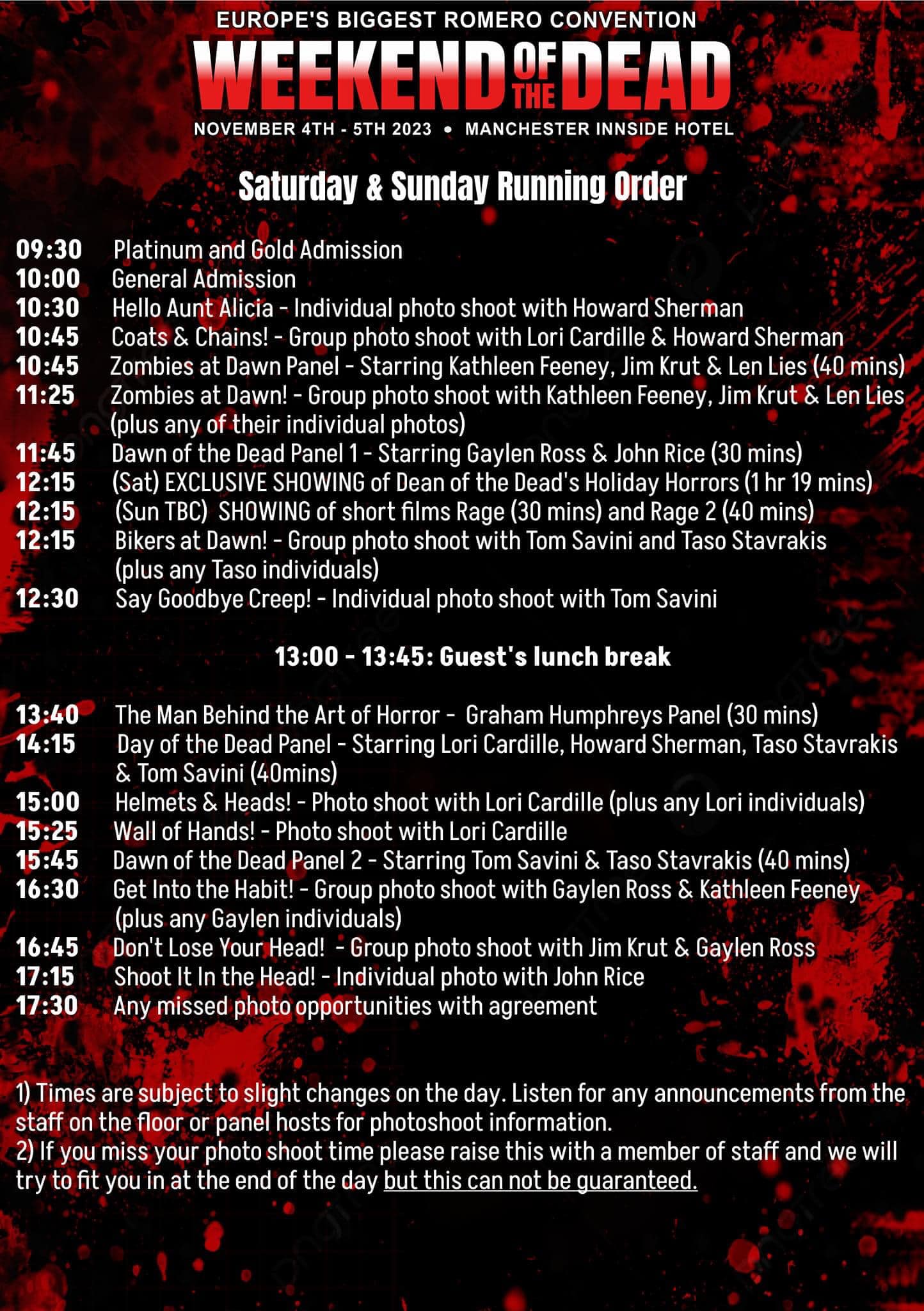 Frequently asked questions
1
Do I need an entry ticket to get an autograph?
Yes, all autographs, photo-tickets etc are only valid with an entry ticket for the day you attend.
2
How do I get tickets for the exclusive Saturday night aftershow?
WOTD have been running a very successful Saturday night aftershow since 2016. Platinum and Gold ticket holders get automatic admission to the evening event however a small amount of standard tickets are released. This is always sold out very fast and this year is no exception. If however you want to be considered for this please contact us here at WOTD to put you on our waiting list. What can you expect at the aftershow?…Ask anyone who has attended in the past events and you will be told how great it really is. We have a very nice hot food buffet served alongside all our star guests who will be attending the sit down with you.
3
Are selfies free this year?
Sorry, no. We've held out as long as possible but this year all selfies will require a selfie ticket.
4
How does the ticket system work?
At WOTD we have no cash handled at the guest tables. Instead we run a ticket system that you can purchase beforehand or on the day. The tickets are purchased either here on our website or at our WOTD stall. If you purchase before the show you will be able to collect those autograph/photo tickets from our fast track queue when you get to the venue. You will only have to join the main queue if you wish to purchase more tickets on the day. Once you have your tickets they will work the same as cash at the guest table. For example if you buy 3 Howard Sherman autograph tickets you will be given 3 individual tickets to exchange for 3 autographs at his table. We highly recommend folks pre-purchase their photo/autograph tickets throughout the year to help budget for so many great guests..you wouldn't want to miss out on anyone would you!!
YES under 18's can come to this years event!!! We are no longer restricted because we have a new venue at the Innside Manchester Hotel. Please remember however that the movie content is over 18 so do keep this in mind if you decide to attend the talks, as language and image content on the big screen may shock them.
6
Will there be any Cos-Play?
Cosplay is always welcome at WOTD, in fact we love it. We want you to enjoy the experience to the MAX. Do remember however that we are in a public hotel so try not to give anyone a heart attack!
7
I'm a vendor and would like to apply for a table
Vendor spaces are extremely limited at WOTD and are always sold out very early. Contact us via our Facebook page to discuss attending our events.
8
I'm not from the area where do you suggest I stay?
This comes up often from folks who travel long distances and want a place to stay. There are many hotels to be found within a close proximity of the venue covering all budget requirements. We fully recommend you plan your visit to Manchester well in advance to get the best hotel deals as the price goes up the closer we get to the event.
9
Do you take cards or is it cash only?
The WOTD stall takes cash and cards, but cards do have a small charge to cover processing fees. Cards machines at large events can also be a little temperamental and some vendors only take cash.