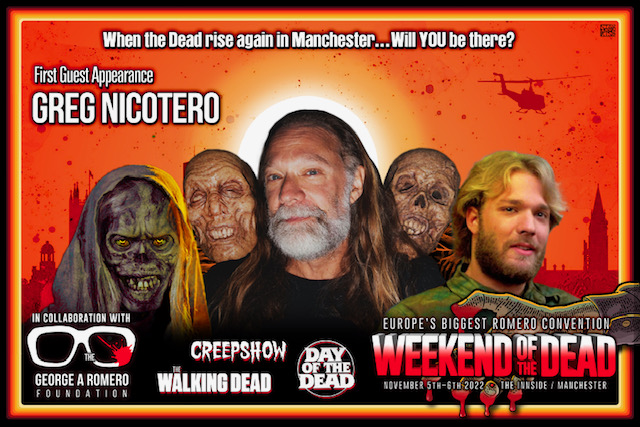 Weekend of the Dead is a zombie gathering run by fans for fans.
This is an event/show like no other which prides itself on the connection of the fans with the special guests.
It's the show that wants to entertain you and bring you face to face with your favourite characters from the big screen Romero Zombie movies.
This will be our 6th show after successful events in 2015, 2016, 2017, 2018 & 2020 which saw us bring iconic characters from George Romero's classic zombie films to the fans.
This included a World first of bringing the 3 leading ladies from Night, Dawn and Day of the Dead to the UK. We also had no fewer than 13 guests for the 2018 event so another first for the European fans.
This year's event in November 5th and 6th promises to be another smash hit with the fans, and really is a must for any Romero horror fan to attend. It will for the first time include a legend from the Walking Dead Mr Greg Nicotero who ties Romero's world and all things modern zombie altogether. It will also be the first time we've worked collaboratively with GARF foundation to bring you this show.
Weekend of the Dead is proud to bring you two days of pure indulgence into your favourite classic Romero movies like Night of the living Dead, Dawn of the Dead, Day of the Dead and Creepshow 40th anniversary to name but a few.
The day will include the following- autograph sessions, special prop photo shoots like you've never imagined with our star guests and Q&A sessions with all the guests hosted by Marcus Lewis & respected interviewer Tony Earnshaw.
There is also a stall run by the Weekend of the Dead team selling autographs from many of the Romero movies, DVD & Blu Rays, movie posters, masks, press material, FilmCells, action figures, buttons, statues, soundtracks, audio plays, novels, Star photos, magazines, autographs, T-Shirts and much more will be displayed and available for purchase.
The GARF foundation will also be hosting a stall full for GARF merchandise.
We are also pleased to work with a number of vendors who will be running stalls at the show.
So look around our site, make sure you keep up to date with this year's event, and make sure you buy a ticket!
The Dead are walking once again in Manchester… will you be there?